Simple, fast and delicious
For the automatic hunger: a recipe for a cup of pizza in just one minute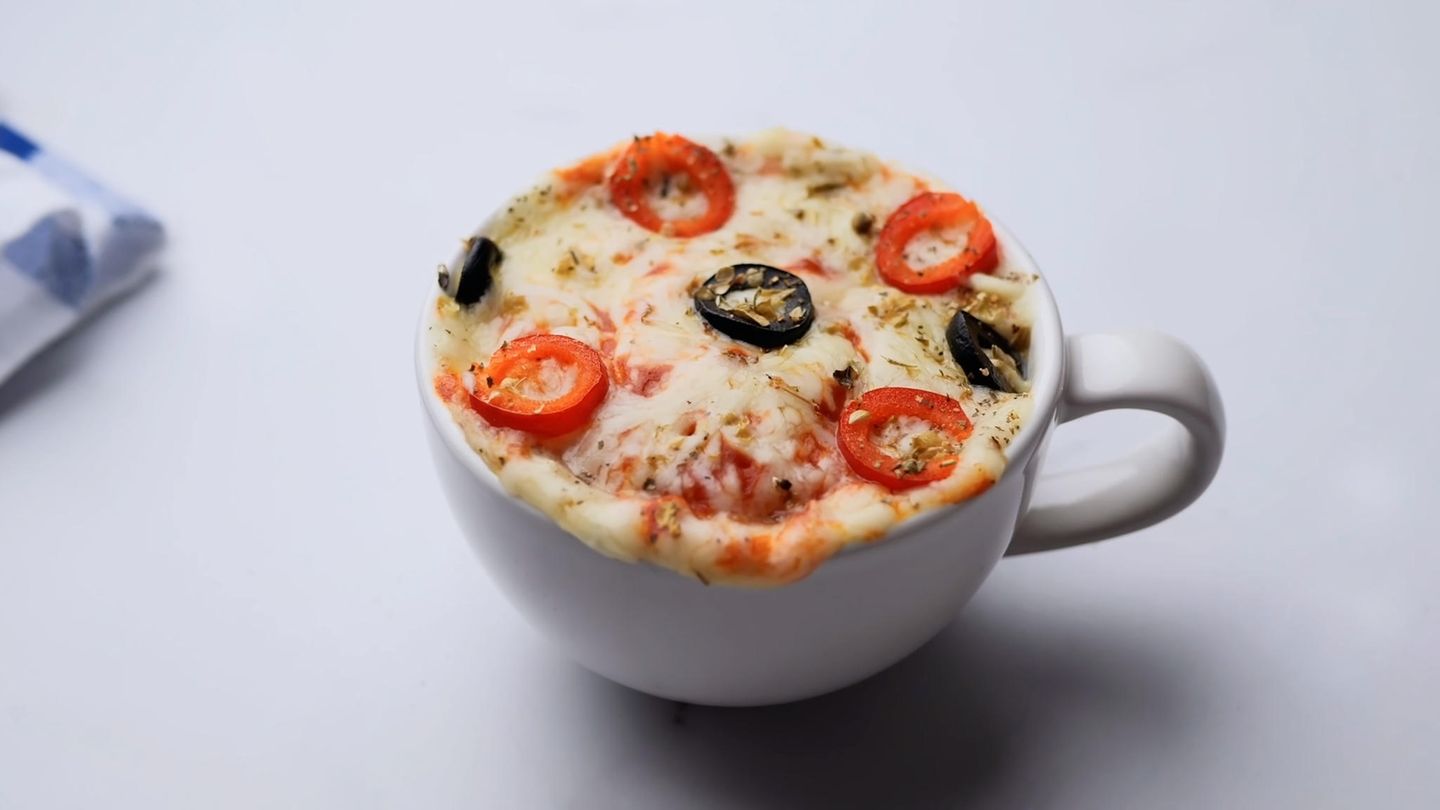 Sometimes pizza is the only real answer. If there is no time to prepare and you need it really fast, we take a cup of pizza – and satisfy your spontaneous cravings in record time. the recipe.
Pizza Everyone knows them and everyone loves them. It is the epitome of Italian cuisine and is one of the most popular dishes all over the world. The first pizza, topped with tomato sauce and prepared as we know it today, probably originated in Naples around 1520. However, the dish became so popular that the art of pizza making in Naples was officially recognized as the Intangible Cultural Heritage of Humanity by UNESCO.
World Champion Pizza

What is her favorite way to eat? To go, take away straight from the hand. Every second, 951 pizzas are eaten worldwide – that's 30 billion pieces a year, thanks mainly to the massive consumption of pizza in the world. United States of America. While Italians contribute five kilograms of pizza per capita in total each year, every American eats up to 13 kilograms annually. The traditional Italian variant with a thin base, baked in a stone oven and spread with garlic oil and the best tomato sauce, has little in common with the modern American variant, which has a thicker base with a cheese crust and ground beef. It doesn't matter, because both versions show how versatile pizza can be – after all, each tastes so delicious in its own way.
Pizza Blitz: fluffy dough in a few minutes

Our cup pizza is versatile, too. However, it also doesn't claim to be able to hold a candle for Italian pizza, but is perfect for pizza cravings and presentations with great fluffy dough. Another bonus: Pizza Blitz mash together in a few minutes and microwave in just one minute. There's no need to let pizza dough rise for hours and hard to roll, the kitchen stays clean and cravings are satiated in just a few minutes. Nothing better than that, right?
The basic recipe for pizza blitz dough consists of only five ingredients, which can usually be found in every kitchen. Prepared from flour, baking powder and a pinch of salt milk and olive oil, a quick mixture is mixed together. What should not be missing in pizza? tomato sauce. The quick version is made with passata tomatoes, garlic, oregano and a touch of pepper. Alternatively, you can use ready-made pizza sauce or make your own ahead of time. The rest of the preparation is self-explanatory: the cheese and toppings of your choice complement the great sampler and the lightning-fast pizza goes to the microwave. Bake for a minute on high and voila – the pizza in the cup is steaming in front of you. How does this smell!
Multi-faceted pizza fun

You can use almost anything your heart desires. Toppings like corn, olive slices, or capers work well. Meat lovers opt for the small and exotic pepperoni for the pineapple slices. Vegetable toppings such as sliced ​​mushrooms, peppers, or fresh tomatoes are also an interesting topping for pizza and make nice differences to a cup of pizza. Unleash your creativity and discover your favorite alternative. good Appetite.
Blitz Mug Pizza Recipe

ingredients

4 tablespoons of wheat flour type 405
½ teaspoon baking powder
pinch of salt
2 to 3 tablespoons of milk
1 tablespoon extra virgin olive oil
1 tablespoon tomato passata
Half a teaspoon of granulated garlic
Half a teaspoon of thyme
Pfeffer
Additions of your choice such as pepper, olive slices, capers, vegetables
1 tablespoon of grated cheese
Preparation

Whisk the flour, baking powder, and salt together in a microwave-safe cup.
Add milk and olive oil and mix until you get a smooth mixture. It should be a little sticky and firm, adjust the amount of milk accordingly.
Mix quick tomato sauce with tomato sauce, garlic, and oregano. Season with pepper and pour over the dough.
Spread the grated cheese over the sauce and place over the pizza cup, if desired.
Bake in the microwave at 1200 W (the highest level) for 1 minute.
Take it out carefully – be careful, hot! – Enjoy right away.
those: Galileo